View Pictures

Bid or Purchase
Current Price: 111.50 USD Ends in: 17h 33m
Installation kit for Honeywell- Bendix/King KLN-89B GPS. Contents of this kit are a subset of what is found in King p/n 050-03321-0000. This kit includes connectors, but not some of the common hardware such as 6-32 screws or cable clamps. It also does not include the tray connector mounting plate. If you have any questions on what is included, see the list below- that's it! Although not purchased through Honeywell, this kit contains the same high quality components. All connector bodies and contacts are mil spec, NOT commercial grade.
This kit includes-
1 pcs- Bendix/King p/n: 030-03272-0000 25 pos connector body
1 pcs- Bendix/King p/n: 030-03271-0000 37 pos connector body
62 pcs- Bendix/King p/n: 030-01157-0011 socket crimp contacts, 20 gauge
1 pcs- Bendix/King p/n: 089-08252-0030 washer for RF tray connector
1 pcs- Bendix/King p/n: 090-00019-0007 Ring retainer for RF connector
1 pcs- Bendix/King p/n: 030-00101-0002 RF tray connector
1 pcs- Bendix/King p/n: 033-00230-0000 panel mount data loader Jack (not shown below)
Bendix/King part numbers are shown for reference only, and unless explicitly stated otherwise, are not meant to indicate that the parts for this kit were sourced from Bendix/King.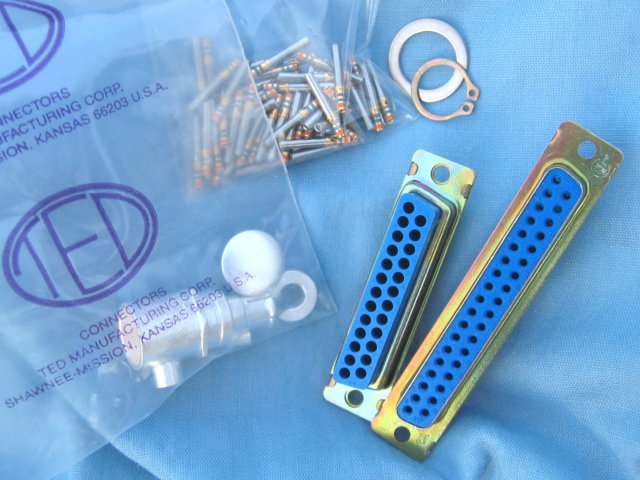 Shipping- standard shipping is via USPS priority mail.
My shipping is guaranteed within the US-
Outside the US, shipping is at the BUYERS RISK, this is due to lack of tracking capability for international flat rated priority international shipping. If you wish this to shipped to an INTERNATIONAL ADDRESS, do not purchase it unless you are willing to take the risk (albeit small) of non-delivery. For larger, combined purchases, we can ship using International EXPRESS mail, which is trackable to most countries. Before paying, please specify that you would like a quote for this option.
Click here to purchase or contact the seller of this item on eBay